About Us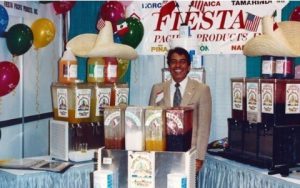 Since 1980, Fiesta Pacific Products Inc. (FPPI) was established as a family business. We have been the leading manufacturer of ethnic tropical drinks with a variety of flavors.
Our founder and creator, Manuel Marruenda, began manufacturing our best-selling flavors: Horchata, Jamaica, and Tamarindo from his home, and distributing it along the Southern California region. Since then, our company has incorporated more flavor options, and has spread across the country.
FPPI now serves over 10,000 clients, ranging from fast food and Mexican restaurants, chain supercenters, convenience, and grocery stores. We provide beverage equipment and post-mix machines to all our direct distribution clients.
We pride ourselves on making all natural products made from the finest ingredients, using authentic old-world recipes. All our manufacturing is done at our headquarter offices in San Diego, CA, using the latest technology and machinery. We work hard to provide the best quality, in order to keep our clients satisfied.
We keep our founder's memory alive by continuing to teach our employees the importance of quality control, efficiency, and excellent customer service. His products will continue to lead the market for generations to come.
Request more information about our products and services