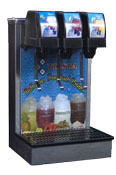 3 Tower Beverage Dispenser
The 3 Flavor Tower is compact and may be island-mounted or installed on a front or rear counter.
The 3 Flavor Tower is designed to dispense three noncarbonated drinks.
Overall Dimensions
Width
10 in.
Height
26 in.
Depth
9 in.
Electrical requirements
115VAC, 60 HZ
Inlet Water Requirements
Minimum Flow Pressure 40 PSIG, Maximum Static Pressure 55 PSIG
The UF-1 valve provides accurate flow capability and dependability. The UF-1 valves are capable of flow rates of 1 ½ to 3 ounces per second.
Request more information about our products and services