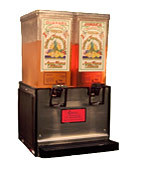 Dove Dispensers S-One
Features:
The Cornelius STARLINE single bowl visual display beverage dispenser provides a refreshing presentation for your product. Interchangeability of parts on models adds to ease of maintenance and service in our Cornelius STARLINE equipment.
Specifications:
Cubes: 4.5 cu.ft.
Capacity: 5 gallons single bowl (18.9 liters)
Electrical Requirements: 115 volts, 60Hz, 1.7 amps
Also available in 230 volts, 50Hz
Cooling: 650 BTU/HR Rotary compressor
Ship Wt.: 63 lbs.
Request more information about our products and services